Amidst a shortage of affordable housing nationwide, block by block of the District is being devoured by high-rise condos, pop-up town homes or lavish multi-story single-family homes as the number of make-shift tents under overpasses and bridges increases. Affordable housing is becoming an oxymoron as families have to decide between paying rent, buying groceries, and proper medical care. The district is not alone in this issue but the extremely low income citizens trying to survive on a daily basis are increasingly feeling alone. Discussions on affordable income inevitably begin with Area Median Income (AMI). For people with extremely low incomes or on the lower rung of the AMI, that's become an acronym for "almost impossible". So, the answer to "How affordable is affordable housing?" depends on which rung of the low income ladder you land on.
The National Low Income Housing Coalition's "The GAP – A Shortage of Affordable Homes" explores the impact of AMI on what it calls the extremely low income's search for affordable housing. AMI is calculated using a percentage of mean income for an area. The DC Department of Housing and Community Development listed the median income for a family of 4 in the District of Columbia in 2017 at $110300. The 3 levels of "low income" based on the AMI: extremely low income is 0-30% of AMI or $33,100, medium low income at 31-50% of AMI or $55,150, and "regular" low income at 50-80% of AMI or $88,350.
Let that sink in a bit for a family of 4 and you realize how quickly affordable housing becomes unaffordable. Add to this what the report refers to as cost-burdening. Cost burdening occurs when more than 30% of household income goes towards rent and utilities which severely limits low income households in many ways. "Over half a million people were homeless and many more millions of families without assistance face difficult choices between spending their limited incomes on rent or taking care of other necessities like food and medical care."
Several other key findings from the report are staggering:
The U.S. has a shortage of more than 7.2 million rental homes affordable and available to extremely low income renter households. Only 35 affordable and available rental homes exist for every 100 extremely low income renter households.
Seventy-one percent of extremely low income renter households are severely cost-burdened, spending more than half of their incomes on rent and utilities. They account for 72.7% of all severely cost-burdened renter households in the United States.
Of the eight million severely cost-burdened extremely low income renter households, 84%are seniors, persons with disabilities, or are in the labor force. Many others are enrolled in school or are single adults caring for a young child or a person with a disability.
The report goes on to highlight another critical disadvantage for the extremely low income – losing housing to other low income families! The higher on the rung you are, the easier it is to reach down into the pool of lower cost housing. However, reaching up from the lowest rung isn't easy or practical. Figure 3 below shows how extremely low income are limited to 35 affordable and available rental homes per 100 households. At 50% of AMI a low income renter has access to not only 56 affordable and available rental homes per 100 households plus the 35 available to the extremely low incomes. It gets worse the higher you move up the ladder.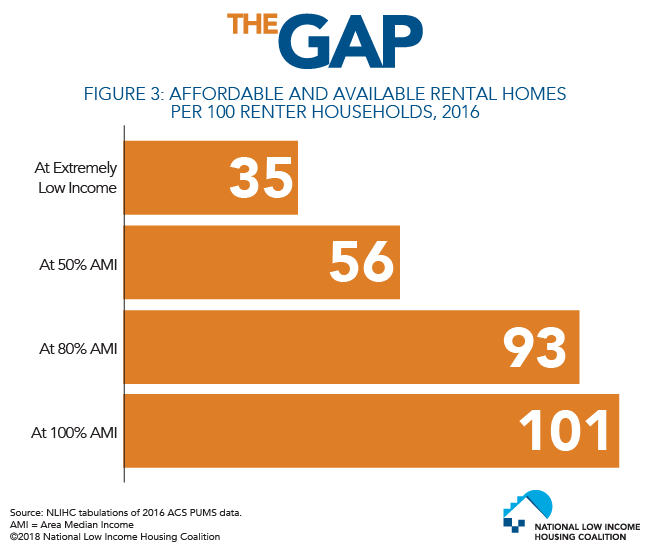 NLHC points out another misconception that extremely low income renters are not members of the workforce. Figure 9 highlights that 91% percent of this population are either in the workforce (44%), disabled (21%), seniors (19%), in school (4%) or caregivers (2%).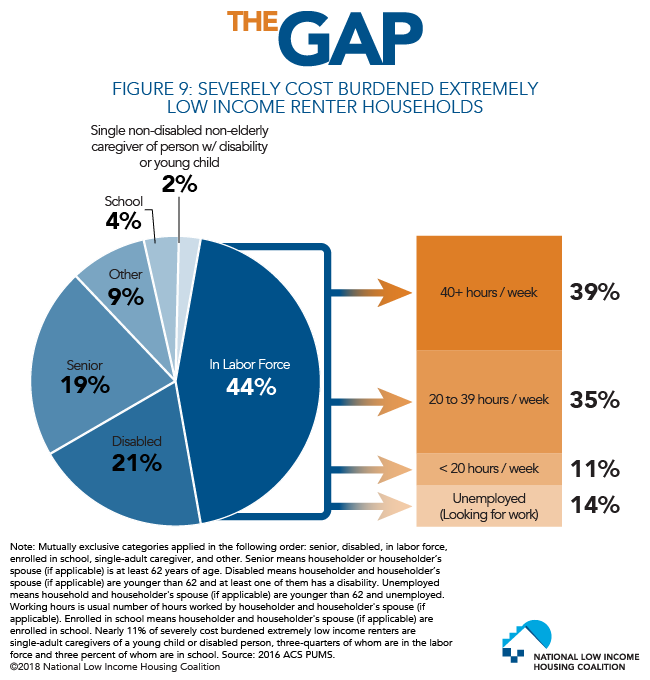 And where does the District stack up? The map below indicates that there were nearly 60,000 extremely low income renter households, 45 affordable and available rental homes per 100 extremely income renter households, and that 69% extremely low income renter households are severely cost burdened. Staggering numbers for the Nation's Capital.